Wish there was an easy way to enjoy your iPod's music library on your car audio deck? Frustrated by the poor sound quality you get when you use an FM transmitter to connect your iPod to your car stereo speakers? If you're ready for a hassle-free solution for enjoying your iPod when you're on the road, iPod integration is the answer you've been seeking. Combining clear, crisp sound and easy operation right on your car stereo deck, iPod integration from Premium Sound and Security helps you take advantage of your iPod's music capacity and your vehicle's car audio system. Learn more when you call now!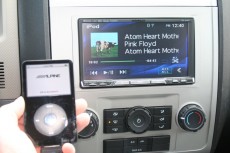 Unlike older style iPod installation systems, iPod integration doesn't broadcast an FM signal to your radio. Instead, it creates a direct interface between your car audio system and the iPod itself. This connection eliminates the annoying static, ensures you get great sound quality, and even makes your music collection easy to manage. A great way to take your car audio video system to the next level, iPod integration expands its capabilities for your listening pleasure and convenience.
At Premium Sound and Security, we stock a variety of options for your iPod installation system. We carry both add-on units to increase your current system's music playing capabilities as well as iPod-enabled car audio decks, and our pros can help you select the best products for your preferences. With a number of creative ways to ensure you get a custom look for your iPod integration system, our professional installers can make certain it looks and sounds great. For customers envisioning a discreet iPod installation option, we can even put a dock in your glove compartment for hidden connectivity. And with our convenient mobile installation services, we can come to you for on-site iPod integration installation. Call for your free estimate or to schedule your service appointment today!