Getting into a cold car can make winter mornings uncomfortable at best, but sitting there, shivering, while the engine warms up is even worse. If you're tired of the discomforts of an icy steering wheel and seat, it's time to install a remote starter in your vehicle! Perfect for warming up your car in the wintertime and even cooling it down in the summer, a remote car starter from Premium Sound and Security will make your drive more convenient, cozy, and fun. So stop suffering! Give our professionals a call to learn more about remote starters and your car or truck.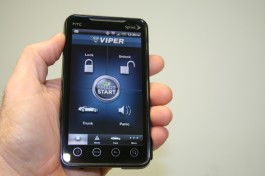 A remote-activated car starter is just what it sounds like: a way to turn on your engine without having to turn the key in the ignition. This gives you the flexibility to start your car from anywhere within range… The options are virtually limitless–from being able to linger over that morning cup of coffee while the engine warms up to getting the car cooled down after it's been sitting in the sun all afternoon, an automatic car starter just makes driving more convenient and comfortable. Not only will the heating or air conditioning systems have the opportunity to control the temperature in the passenger compartment before you get in the driver's seat, a remote starter also gives the engine time to warm up before you zoom off. That means reduced engine wear and a longer life for your car!
Premium Sound and Security carries a large stock of remote car starter products from the industry's leading manufacturers. We have a variety of ranges and styles available, and our knowledgeable staff can help match you with the car starter product that's best suited to your budget, needs, and particular vehicle. And because we also offer complete automatic car starter installation, we're your one-stop shop for top-quality remote starters.
Keep in mind that professional installation can make a huge difference when it comes to remote car starters. After all, your car or truck will be running without anyone inside, so it's important to make sure that the remote starter is installed correctly, with all pertinent safety mechanisms working properly. At Premium Sound and Security, our professional installers have been putting in mobile electronics for 20 years, and we have the hands-on know-how to handle all types of remote starter installation. We take the time to do the job right, ensuring you get the meticulous installation craftsmanship you can count on to safeguard your vehicle. And don't forget, Premium Sound and Security can come to you for your remote starter installation if it is more convenient. For more information on our on-site mobile electronics installation services, call today!